ZANSKAR TOUR
Duration:
15 Nights / 16 Days
Best Season:
June to September
TOUR ITINERARY
Day 1: Arrive Delhi.
On arrival you will be received at the international airport and transfer to Hotel.
Day 2: Early morning Transfer to Domestic Airport to board flight for Leh
Upon arrival you will be received and transfered to hotel at Leh. Half Day rest at hotel is recommended to get you acclimatized with the high altitude. In the afternoon proceed in car for a short sight seeing around the city. Sankar monastery located amidst the village and Lush green barley field. Then after proceed towards Shanti stupa standing elegantly on a hill is the best point to enjoy aerial view of Leh town and the range of Mountain which enclave the town. Over night at Hotel.
Day 3: Leh – Alchi (3250m)
After morning breakfast drive towards Alchi on way visiting Spituk monastery. On arrival check in at hotel. Post lunch we will visit The Alchi Gonpa which is now a world heritage for the beautiful fresco paintings 1000 years old. Founded by the great Rinchen Zangpo in 10 th century situated in the middle of the village with elaborate pillars, priceless beautiful wall paintings. Overnight stay in hotel.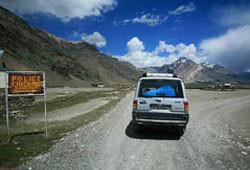 Day 4: Alchi - Likir - Yangthng
Drive Likir for about 15 kilometers and visit the beautiful Likir monastery. In front of the monastery there is a huge standing open Statue of The future Buddha. Later start the first leg of the Trek. The trek can be start from the monastery or from the village bit down from the monastery. After 40 minutes walk from the village you will come to a small Pass Phobela. From the pass you will follow a slope and then reach to Sumdo a lonely house. There is a good stream water and it would be nice spot for Picnic Lunch. Post lunch start trekking through a small valley, the trail quite seep and bit hard under the sun and reach to the next pass Chagatse pass. From this pass you can see Beautiful Yangthang village. Over night in the tent.
Day 5 Yangthing – Hemis Shukpachan
Begin your hike with a light pack lunch; it's an easy hike till the small river of Yangthang, then gradually hike up and cross the Yangthang-pass-3900mtrs. From he top magnificent view of Hemis Shukpachen at front and left side you have the genetic Ladakh range of mountains. Easy hike down to reach Hemis Shukpahan. Total hiking hours would be 3 to 4hrs.
Day 6: Hemis Shukpachan - Tingmosgang - Lamayuru
From Hemis Shukpachan the morning trek start with a easy plain walk and then follow a steep descend to the valley and a steep ascend to reach Mebtak la 3720m. From the pass till village Ang and Tingmosgang it is all going down. You will be picked by car at Ang village and drive towards Lamayuru. Overnight hotel at Lamayuru.
Day 7: Lamayuru – Kargil (2700m)
After morning breakfast visit the Lamayuru monastery. Afterwards resume the onward journey towards Kargil. You cross two passes Fotu-la and Nmmki-la. On way also visit Mulbek rock curved Maitereya statue the future Buddha. On arrival check in at hotel at Kargil.
Day 8: Kargil – Rangdum
Morning after breakfast proceeds towards Rangdum. After a short drive from Kargil we enter in to the Suru valley. Suru valley is one of the most beautiful regions of ladakh, and is the heartland of kargil. You will enjoy the view of massive Nun and Kun peak and the Parkachik glacier. There is many other unnamed Glaciered peaks on the way. On arrival at Rangdum Check in at Camp.
Day 9: Rangdum – Padum (3550m)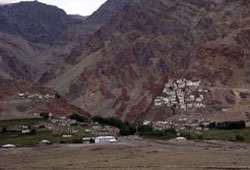 After morning breakfast proceed to visit the Rangdum monastery. After that proceed to zanskar. An hour drive from Rangdum is the Penzila pass (4200m) only pass to Zanskar. Around penzila there are also many unnamed glaciered peaks. And the famous Darang Durung Glacier. This area is very scenic and you will find many shepherd huts here .Upon arrival check in hotel at Padum.
Day 10: Sight seeing of Karsha monastery, Chuchik jal Nunnery, Kalachakra temple
After morning breakfast drive 10 km to Karsha which has the largest Geluk pa monastery of Zanskar. Close to the monastery there is a Nunnery to visit which eleven headed big statmoue of Avaloketeshvra has believed to be 800 years old. Drive back to Hotel and enjoy hot meal. In the afternoon visit the Kalachakra temple a temple devoted to His Holiness The Dalai Lama who has given the teaching of Kalachakra in 1988. Overnight Stay at hotel.
Day 11: Sight seeing of lowers part of Zanskar
After morning breakfast drive 35 km along the Zanskar River to Zangla.We will visit the old and new palace of Zangla king.We will also visit the Zangla nunnery.After wards drive back to Tongde. Tongde monastery is the second largest Geluk pa monastery in zanskar. Drive back to hotel for overnight stay.
Day 12: Sight seeing of Zngkhul and Sani
ToDay we will visit one of the most sacred monastery Zanskar. Zonghul is 35 km drive from Padum. Zongkhul was blessed by the great Indian yogi the great Naropa in around 11 th century. There are two meditation cave .Both attractive.The old one has beautiful paintings. On way back hotel visit Sani palace , famous for the sacred Kaniska Stupa, and Naropa temple. There is a sacred lake also.you will enjoy your meal here. Ovenight stay at hotel.
Day 13: Padum – kargil (234km)
Early morning departure to Kargil. Overnight stay at hotel.
Day 14: Kargil – Leh (230km)
After morning breakfast drive to Leh on way visit rock curved Maitarei statue at Mulbek. Over night at hotel.
Day 15:
Shopping Day.
Day 16:
Transfer to airport to board flight for Delhi.
TOUR ENDS