Day 1: Arrive Delhi
On arrival meeting and assistance at the Airport followed by the traditional welcome by garlanding and then escorted transfer to your hotel. Rest of the Day is leisure. Overnight at hotel
Day 2: Delhi - Leh (Complete Rest in Leh for acclimatisation)
Take the morning flight for Leh. Check into the guest house and relax the whole Day. This is necessary for getting acclimatised. Overnight at hotel.
Day 3: Leh - Shey - Thiksey – Hemis - Leh
On this Day you will go to sightseeing trip to some ancient monasteries in this area.
Shey Gompa is about 15 kms from Leh. It used to be the summer palace of the kings of Ladakh. There are lots of Stupas and Gompas built around the palace. Shey palace was built by Deldan Namgyal in the beginning of 17'Th century AD. Main attraction in Shey is the 12m Shakyamuni Buddha statue inside the Dresthang Gompa.
Thiksey Gompa close to Shey is about 17 kms from Leh. The monastery is considered to be one of the most beautiful in Ladakh and belongs to the Gelukspa order.
Hemis,about 45 kms south of Leh it is one of the most famous and largest monastery in Ladakh. It belongs to the Drukpa order and was founded in the early 17'Th century. The setting is perfect with the monastery cradled in a lovely valley, surrounded by streams and fronted by long Mani walls. Overnight stay at the hotel.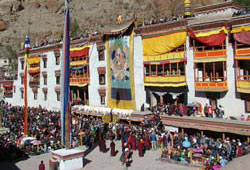 Day 4: Liker to Yangthang across Phobe La (9 kms/4 to 5 hrs.)
Morning after breakfast you will be driven by taxi to Likir which is just 58 kms. Away. Liker Village (3650 mts.) is the starting point of our trek.. The Ridzong Monastery lies about an hour south of Yangthang.
Day 5: Yangthang - Hemis Shukpachan via Rizong (Shuk shuk la 4000m)
ToDay is pretty a long Day. From Yangthang we walk alongside the stream and trees towards Rizong Monastery. After visiting the Monastery, we ascend gradually to the Shushut pass (4000m). From this pass you can have view of Hemis Shukpachan as well as surrounding peaks. From the pass to the camp it ill takes 2 hrs.
Day 6: Hemis Shukpachan - Tingmosgang (4hr)( Mebtak-la)
A short walk from the camp will lead us to a steep descend which will lead us to the right side of the mountain and then climb steadily on the slope toward the Mebtak-la (3000m). After taking short rest and enjoying the view from the pass, we head towards Ang village and then further towards the village of Tingmosgang. Camp at Tingmosgang.
Day 7: Khaltse – Lamayuru (Bong Bong-la 3630m)
Morning after break fast proceed towards Tia village. Tingmosgang is a big village of the area. There is a beautiful monastery to visit. Cross the bridge near Tia village and ascend towads Bong Bong-la. From the pass descend all the way to Balu Khar on Leh Srinagar High way. You will pick up by car at this point and will drop you at Lamayuru (1hr drive). Overnight in tent.
Day 8: Lamayuru - wanla Pring kiti la (3720m)
After morning breakfast visit the famous Lamayuru monastery. One temple in this monastery is 1000 years old built by the Rinchen Zangpo of Tibet. After that start trekking towards Wanla. You will walk down to the end of the field and come to a point with Stupa. From there you follow a slow ascend till Pring Kiti-la pass. From the pass it is a steep descend till Wanla. Visit Wanla monastery and overnight in tent.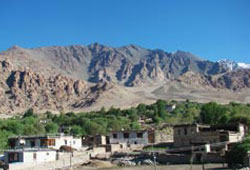 Day 9: Alchi – Leh (4 hr drive)
After breakfast drive back to Leh. On the way visit the famous Alchi monastery. Lunch at Alchi and post lunch drive back to Leh. Overnight in Hotel.
Day 10: Khardungla Top (5606m)
Early morning after breakfast drive two hour to Khardungla Top, the world highest motorable pass. Afernoon free for shopping.
Day 11: Leh - Delhi
Early morning departure to Leh airport to board flight for Delhi.
Day 12:
Delhi - onwards journey.
TOUR ENDS