Day 1: Arrive Delhi
Arrive Delhi and transfer to Domestic airport to board Flight for Leh.
Day 2:
Well come at Airport and Transfer to Hotel. Half Day rest for High altitude acclimatization. In the afternoon proceed for a visit of Sankar monastery and Shati stupa, from where you will have a aerial glimpse of Leh town. Overnight at hotel.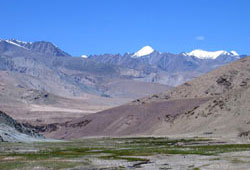 Day 3:
Visit Spituk monastery and Phyang monastery in the morning time. Come back to Hotel for Lunch. In the afternoon visit Stok Palace and Museum. Overnight at hotel.
Day 4: Leh – Rumtse (4040m)
Check out hotel and depart to Rumtse the starting point of the trek. On way visit Shey, Thiksay and Hemis. Over night at tent at Rumtse.
Day 5: Rumtse to Kyamar (4380m) 5 hrs.
After 20 minutes walk from the camp you have to cross a big stream.you will follow the valley turning left side of the Leh Manali road.The trail till the camp is on green meadows with an easy ascend.
Day 6: Kyamar to Tisaling (4820m) 5 -6 hrs.
The trek start with an easy ascend but the last part of the Kyamar la (4770m) is steep. Another easy descend will lead you to the base of mandal chan-la (4850m) and an easy ascent will reach to Mandal Chan la and from there you can see Tisaling, with nice camping site. Overnight in tent.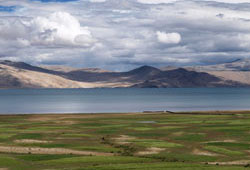 Day 7: Tisaling to Pangunagu (4430m) 5 - 6 hrs.
A gradual and easy ascend will lead you to Shibuk la (4900m).From the top you can have the view of first glimpse of Tsokar. It is a long descend from the top to Pangunagu. There are many wild Ass (skyang) around this area. Pangunagu has also nice camping site. Overnight in tent.
Day 8: Pangunagu to Nuruchan (4520m) 4-5 hrs.
The trek will start along the Tsokar lake for about two hour and then there is a long plain sandy trail till Nuruchan. Overnight in tent.
Day 9: Nuruchen to Rajung Karu (4570m) 3 -4 hrs.
ToDay will be a short Day trek. Cross the river early in the morning and the trek will follow gradual ascend to Horlam kongka-la (4712m) and then again slow descend till the stream. Cross the stream and follow the trail on the right side of the stream to reach Rjungkaru.Nice camping site. Overnight in tent.
Day 10: Rachunkaru to Gyama (5100m) 5- 6 hrs.
The morning part of the trek is hard. There is a hard ascend to Kyamayuri-la (5410m).From there it is a beautiful descend with much scenic beauties around this area. There is another big stream water to cross before you start climbing Gyamabarma-la (5100m). Another Scenic descend will follow till Gyama the next camp. Over night in tent.
Day 11: Gyama to Korzok (4530m) 7 -8 hrs.
The trek start with a slow and long ascend following through a narrow and beautiful valley. The scene fom the top of Yalung Nyau la is beautiful (5440m) the highest pass of the trek and you will have the glimpse of beautiful Tsomoriri. From there it is again a long descend to Korzok. Overnight in tent.
Day 12: One Day rest in Korzok and explore around Tsomoriri
During the rest Day you can hike around the lake. Also visit the Korzok monastery. Overnight in tent.
Day 13: Tsomoriri - Puga - Tsokar – Taglang la – Leh
Drive back to Leh via Puga valley, which is famous for borax and hot spring. Then visit Tsokar via Polokongka pass, which is at an altitude of (4090m). You can also visit Thugje gompa. Continue driving towards Leh via Taglang la pass, which is at an height of (5350m) and is the second highest motorable pass in the world. Over night at Hotel.
Day 14: Early morning drive to Khardung la Top (5606m)
Enjoy the view of Zanskar range in the front and Karakoram Range at the back. Drive back to Hotel for Lunch. Afternoon free for leisure.Overnight at hotel.
Day 15: Leh - Delhi
You will be transferred to the airport to board flight to Delhi.
TOUR ENDS