Day 1:
Drive from Leh – Kargil, enroute visit some interesting places such as Alchi and Lamayuru Gompa reach at Kargil, overnight at Hotel.
Day 2:
Drive from Kargil - Rangdum enroute visit Kartse khar also Suru valley. Overnight in tent.
Day 3: Rangdum - Kanji-la - Puzdon-la (7 hours)
From the village have to go several km along the track towards the Rangdum Gompa. Go up along the river Kanji and on the right bank for half an hour, then cross it. Continue along this river along a route with frequents ups and downs. Follow this path until finding yourself in front of an narrow gorge. Several easy stream crossings.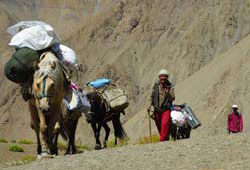 Day 4: Kanji-la - Puzdon-la - Kanji-la River Kong N (7-8 hours)
Above the camp take a path to the left of the gorge. The pack animals must follow the gorge. After half an hour go to the gorge which you follow until reaching Kanji-la across a mass of fallen rocks (5150m, 5hrs). From the pass go to (west) the third cairn to find the way down. The first two hundred meters are strep. Go down along the left bank, pass an escarpment and make a very steep descent of about 300m, to the river Kong N.
Day 5: River Kong N - Kanji (4 hours)
Follow the river, cross it several times, then along the right bank of the river Kanji until seeing Kanji (3850m)
Day 6: Kanji - Yogma-la - river Shillakong (6 hours)
From Kanji, cross the river on a bridge then follow the left bank of the river which comes down from the Yogma-la. After 1:30 hours cross this river in front of a small village, then go up the valley leading to the Yogma-la (4700m, 5hours). From Summit of the pass, you reach the Shillakong in one hour along a steep path.
Day 7: River Shillakong - Sniugutse-la - Hanupatta (6/7 hours)
From the camp, long climb along left bank to the Sniugutse-la (5000m of which the last 200 are steep, 4hrs.). From the path, go down into a spectacular gorge. After 20 minutes, you arrive at a stream which you follow for 1:03 hrs until reaching a river.
Day 8: Hanupatta - Khalse (8 hours)
Walking on right bank, 2hrs reach at Wanla. From Wanla we will drive back to Khalsi Overnight at Guest House.
TOUR ENDS