Day 1: Delhi
Reception at the Delhi international airport and transfer to hotel.
Day 2: Delhi - Leh (3450m)
Early morning transfer to Domestic airport to board one of the most spectacular Trans Himalayan flight to Leh. Welcome at Leh airport and transfer to hotel. Half Day rest at hotel for high altitude aclimatisation. In the afternoon proceed to visit Sankar monastery, Shanti Stupa and a short walk of the Leh market.
Day 3: Leh – Alchi (3250m)
Morning after breakfast proceed towards Alchi(68 km)from Leh. Enroute visit Spituk and Basgo. Upon arrival check in at hotel and enjoy hot meal. Post lunch visit the famous 1000 year old Alchi gonpa. Close by there is another small gonpa with beautiful painting, Tsa Tsa puri. Overnight stay at hotel.
Day 4: Alchi – Lamayuru trek to Wanla (3 hrs)
Morning after breakfast drive towards lamayuru 76 km.On arrival visit the lamayuru monastery dating back to 10th century. Later hike down the village and cross the stream, then gradually Climb along the mountainside and reach Pring kiti-La (3720m). Continue walk down through the Valley until you come to a motorable road. Trek further along with the Shila River to reach wanla. Visit the monastery, overnight in tent.
Day 5: Wanla – Hanupata
Morning after breakfast trek to reach Hanupata ( 3770 m)in 4-5hr. ToDay we walk along the road crossing the Fanji village .cross the bidge and follow the road till you get to Sumda with a Stupa where three valley meets. From here walk up to reach Hanupata.over night in tents.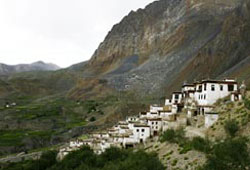 Day 6: Hanupata – Sirsir-La - Photoksar
Morning after breakfast trek to reach Photoksar (4200m) via Sirsir-la (4850m). ToDay the trail is a slow and steady ascend and to the last point to Sirsir-la, it is quite Steep. From the top you can view the range of Singela and Photoksar village. From the top you will follow a steep descend till the other base and then an easy walk down till the camp. Over night in the tent.
Day 7: Photoksar - Bumitsela – Marling
Morning after breakfast trek to reach Marling which is the first base to Singela. It will take 6-7 hours. The start of the trek is very beautiful as you will enjoy the beautiful Potoksar village. Just before marling there is a seasonal river to cross. Overnight in tent.
Day 8: Marling – Singela – Stayangs
Morning after breakfast trek to reach the Stayang in 5hr via crossing over the highest pass of this trek Singe la pass or Lion pass (5050m). The climb is easy, only the last moment is bit Steep. From the top follow a long slow descends to reach to the other base and then it is an easy walk to reach Stayang. Overnight in tent.
Day 9: Stayang – Skupata-la - Skupata village
Morning after breakfast treak to reach Skupata village in (4-5 hr). The beginning trail is easy and scenic too. But from the Skupata la to the village it is exciting and difficult too. There is a Steep and long zig zag to follow. Overnight in tent near the village.
Day 10: Skupata - Lingshet
Morning after breakfast trek to reach Lingshet (3800m)From the camp you will follow a slow ascend to reach to Margon la, from where you can have the glimpse of Lingshet village and monastery.Overnight in tent near the monastery.
Day 11: Lingshet - Hanumala Base
ToDay is a short Day trek. So you can spend sometime in attending the morning prayer at Lingshed monastery and village in Ladakh, India the monastery. After an early lunch you can proceed to reach Hanumala base.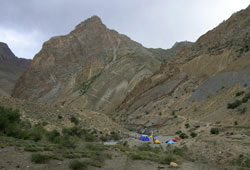 Day 12: Hanumala base - Hanumala pass Zingchan Dokpo (3745m)
Early morning departure is recommended. From camp you start climbing and it is a steep ascend till the Hanumala pass(4700m) From the top to Zingchan it is a long escend and you will enjoy a beautiful Canyon before Zingchan Dokpo.
Day 13 Zingchan Dokpo - Parfi la - Hanamur (5-6hrs.)
From the camp an early departure is recommended as the morning trail is steep. Reach the top in an hour. From there you can view Zanskar River. You will reach to Hanamur first village of Zanskar.
Day 14: Hanamur – Zangla (5-6hrs.)
Morning after breakfast trek towards Zangla. Walk up to Pidmo village and cross the bridge to towards Zangla left side of Znaskar River. The Days walk will be all on a plan. Over night in tent at Zangla. Your trek ends here. Onward journey in Taxi.
Day 15: Zangla nunnery - Thongde monstery - Padum
Morning after breakfast visit Zangla Nunnery and Zangla palace. Drive to Thongde and visit Thongde monastery. Drive further towards Padum. Overnight in tent.
Day 16:
Sight seeing around Padum. In the morning visit Karsha monastery and Chuchik jal Nunnery. On way back to Padum visit Guru temple at Pipiting. Back to camp for Lunch. In the afternoon visit Stakrimo monastery and Gyalwa Rignga near Padum. Overnight tent.
Day 17: Padum – Kargil (230km)
Early morning departure is recommended .On arrival check in hotel at Kargil.
Day 18:
Kargil – Leh (230km)
Day 19:
Free Day for leisure.
Day 20:
Early morning departure to airport to board Flight for Delhi.
TOUR ENDS