Day 1: Leh – Lamayuru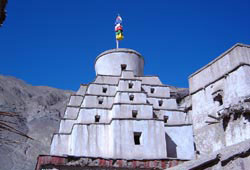 Arrive at Leh airport and drive towards Lamayuru (120 km/5 hours drive). It is one of the oldest and most eminent monasteries in the region. Spend the whole Day in the village sightseeing at the monastery. Spend the night in luxury tents. Day 1 of Lamayuru Alchi Trek ends here.
Day 2: Lamayuru – Wanla
Day 2 of Lamayuru Alchi Trek starts with trekking. Steep down and cross the waterbed. Climb the mountainside and reach Prinkiti La (3720 meters). Continue walking till you reach Wanla (4/5 hrs). Overnight in tents.
Day 3: Wanla – Urshi
Early morning trek for around 6/7 hours to arrive at Urshi. This trekking route is the most popular in Lamayuru Alchi trek tour. Reach Urshi by evening. Stay in tents for the night.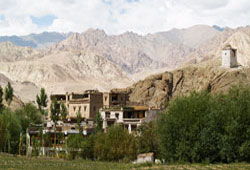 Day 4: Urshi – Tarla – Tar (8/9 hours trek)
Day 4 of travel to Lamayuru Alchi begins with trekking on the well-marked and precipitous paths up to Tarla (5250 meters/5-6 hours). From there, a 3 hour walk takes you to Tar. Overnight in tents.
Day 5: Tar – Mang Gyu
On Day 5 of Lamayuru Alchi Tour, leave Tar in the morning after breakfast and head towards Mang Gyu, a trek of about 4/5 hours. The path is smooth. Mang Gyu is a beautiful village. Stay in tents overnight.
Day 6: Mang Gyu – Gera – Alchi (4/5 hours trek) – Leh (2 hours drive)
On the last Day of trek to Lamayuru Alchi, reach Indus valley in Gera village (2 hours). Continue the Indian route upstream and cross Lardo till you reach a motorable road, 3 km before Alchi. A 1 hr drive takes you to the famous Alchi monastery and a 2 hr drive to Leh. Upon arrival, continue journey to onward destination or back home.
TOUR ENDS