Day 1: Shimla - Rampur (1400 m / 94kms)
Rampur is situated on the left bank of River Sutlej. There is a Buddhist Monastery and a Hindu Temple. This is the venue of one of the biggest trade fairs of Northern India known as Lavi Fair. Overnight at Hotel.
Day 2: Rampur - Sarahan (2165 m/97kms)
Sarahan is a small historic village where the historical Bhimakali temple is situated side of the valley. Overnight at Hotel or Guest House.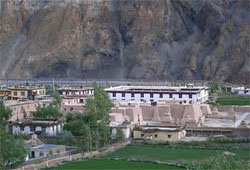 Day 3: Sarahan - Sangla (2860 m/102km)
The largest village in the area, scenic Sangla is 18 km from Karcham Vaspa Valley. It offers an enchanting vista at every turn. There are saffron fields, orchards and as one goes higher up lovely alpine meadows stand welcoming. The Kinner Kailash Peak dominates the view from Sangla. From Sangla it is possible to visit Kamru Fort. Overnight at Guest/Hotel.
Day 4: Sangla - Kalpa (2759 m/162kms)
Recong Peo and Kalpa are respectively the new and old district headquarters for Kinnaur district. They are famous for dry fruits and offer the nearest of Kinner - Kailash (Shivlingam) Peak from Kalpa. Local wine known as "Angoori" is worth a try. Over Guest House/Hotel.
Day 5: Kalpa – Tabo (3050 m/165kms)
A little off the National Highway 22, along a link road just short of Yang Thang is the scenic Nako village, the largest village in the desolate Hangrang valley. A little lake reflects the surrounding hills. The stark grandeur of the Tashigang Gompa & Tilasangh Monastery are very famous. Overnight at Tabo Hotel/Guest House.
Day 6: Tabo - Dhankar – Kaza (3050 m/56km)
High mountains surround Tabo. The thousand year old Tabo Gompa, which was established by the legendary Rinchen Tsangpo, is considered next in importance to the Tholing Gompa in Tibet. Richly decorated with murals and painted stucco, the Monastery has priceless collections of manuscripts and thangkas. Dhankar is a very famous monastery. A route from here leads to Bhaba Pass and Pin Parbati Pass across Spiti River through Pin Valley. It is the old capital of Spiti State. Overnight at Kaza hotel.
Day 7: Kaza – Losar (4205 m/124km)
Kibber has a famous monastery and is the highest village in the world. Enroute Takche monastery. Overnight at Losar
Day 8: Losar - Jespa (3460 m/145kms)
Drive over the Kunzum Pass at a height of 6000 m. A nice view of Chandra River and the high mountains of Lahaul and Spiti Valley, via passing Keylong distt of the Lahaul valley. Overnight at Jespa Hotel.
Day 9: Jespa – Serchu (4892 m/132 km /5hr)
It is a nice village on both sides of River Bhaga. It is also the starting point for the trek to Zanskar Valley. Also drive over the beautiful Baralacha-La, nice camping site (4892 m) Overnight at Serchu camp.
Day 10: Sarchu - Tsokar Lake (3840 m/118km/4hr)
Drive over the one nice high passes, Lachalang La (5065 m) after one and half drive you will get at Pang, there you will get tea stall. The people from Changthang they have local restaurant. Overnight Tsokar lake camp.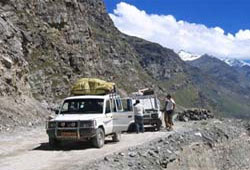 Day 11: Tsokar Lake (4268m) – Tsomoriri Lake (4485 m /178kms)
After breakfast drive to Tsokar Lake, it is a Day where we will cross a number of passes here the road twists its way to Pangong through an amazing canyon with sheer cliffs and rocky outcrops looming up on both sides of the road. Drive to Tsomoriri Lake via Sumdo. Tomoriri Lake is also called as white lake because of salt deposit around it. It is approx 45 kms northwest of the Tsokar Lake. Sumdo to Tsomoriri is one of the most interesting drives as it goes through sandy deserts & rocky paths. Tso - a small turquoise lake which appears like an emerald of a queen's necklace. Overnight at camp.
Day 12: Tsomoriri lake – Leh (3506m /280 Km)
After breakfast drive for 6 hours to Leh via Sumdo and Chuma – Thang (3965m). Enroute stop at Mahe Bridge from where the road crosses to the south bank of the river by a bridge; Chuma-Thang is known for its famous medicated hot water springs where people from various parts of Ladakh come for relieving their pains. Enroute drive past beautiful villages of Nurnis, Kery and Kadgam. The Jeep drive through this part of the Indus valley is quite flat without much uphill or downhill drive, a wide open village. Overnight at Hotel.
Day 14:
Half Day rest at Hotel and after lunch move to explore the Leh market. Overnight at Hotel.
Day 15:
Departure to Airport.
TOUR ENDS