Day 1:
Early morning flight from Delhi to Leh, transfer to hotel and rest.
Day 2:
Morning sightseeing - Shanti Stupa and Sangkar Gompa. Lunch at hotel, afternoon rest.
Day 3:
Sightseeing around Sham, the lower part of Ladakh, visiting the Likir and Alchi monasteries.
Day 4:
Early morning Leh to Hemis by jeep, visit the Hemis Gompa and start trekking to Shang Sumdo crossing Martselang Bridge, then ascent up valley along the river, crossing it several times before reaching Shang Sumdo.
Day 5:
Trek Shang Sumdo to Lartsa Kongmarula, 4800m. The route follows through a stunning landscape of red rocks along the slope, then along river till Chuskyurmo (sour water), on through gorges of small rivers many of which need to be crossed before camp is made for the night at Lartsa below Kongmarula Pass.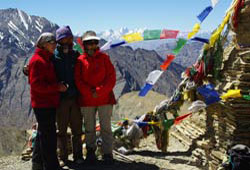 Day 6:
M Trek Larsa Kongmarula to Langthang Chu river. Before descending to a high mountain pasture at Nimaling (4700m), we must ascent steeply up to Kongmarula Pass (5150m), offering a beautiful view of the northern face of Kang Yatse Peak (6400m). From Nimaling up, cross a ridge, then descent to a beautiful valley, cross river, on up again, following a rocky slope up to Konga Ngonpo (5090m), then descend along a very steep route before reaching a campsite near Male.
Day 7:
Trek Langthang Chu - Zalung Karpo La (5200m). After crossing a large stream and a moraine, valley divides an hour later. Continuing to our right, the route goes up and down before reaching Zalung Karpo La. Camp on the other side of the pass.
Day 8:
Trek Zalungkarpola to Tilat Sumdo. Start descending from the camp towards the main stream. After an hour arrive at Khamak Sumdo, a valley coming from the north (route directly north leads to Rebrang La, 5000m). Follow the gorge, crossing a stream several times before reaching Tilat Sumdo along a rocky route.
Day 9:
Trek Tilat Sumdo to a north camp (4450m) of Chhar Chhar La 4950m). Just after Tilat Sumdo camp, cross Khurna River, continues on its right bank, past couple side valleys. Four hours later as the valley narrows, break camp.
Day 10:
Trek from the north camp Chhar Chhar La to Zangla Sumdo. Follow the narrow gorge, past several narrow side gorges, eventually leaving behind the stream. The route follows gently up to the top of Chharchhar La, 4950m. From top follow stream down to Zangla Sumdo.
Day 11
Trek Zanglasumdo to Zangla. Continuing down from Zangla Sumdo along the stream, the trail reaches the wide expanse of the Zanskar Valley, with great views of the Zanskar River and the villages of Pishu and Pidmo on the other side of the river.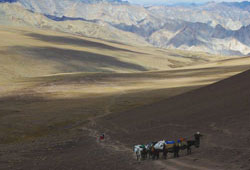 Day 12:
Sightseeing around Zanskar, visiting Zhungkhul Monastery, Sani Castle Stongde and Karsha monasteries.
Day 13:
Start back to Leh by jeep; overnight at kargil
Day 14:
Return to Leh.
Day 15:
Return flight to Delhi.
TOUR ENDS