Day 1: Delhi
Reception at the Delhi international airport and transfer to hotel.
Day 2: Delhi - Leh (3450m)
Early morning transfer to Domestic airport to board one of the most spectacular Trans Himalayan fliht to Leh.Well come on leh airport and transfer to hotel. Half Day rest at hotel for hig altitude aclimatisation.in the afternoon proceed to visit Sankar monastery, Shanti Stupa and a short of the Le market.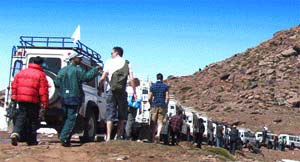 Day 3: Leh – Alchi (3250m)
Morning after breakfast proceeds towards Alchi (68 km) from Leh. On way visit Spituk and Basgo .upon arrival check in at hotel and enjoy hot meal. Post lunch visit the famous 1000 yeas old Alchi gonpa. Close by there is another small gonpa with beautiful painting, Tsa Tsa puri.Overnight stay at hotel.
Day 4: Alchi – kargil (2700m)
Morning after breakfast, proceed towards Kargil. Visist Rizong monastery not so far from the main road, a bit drive. Make lunch stop at Lamayuru visit the magnificent 1000years Lamayuru monastery and enjoy the beautiful moonland view. Drive further towards Kargil passing through two passes first Fotula and Namkia. Upon arrival, check in at Hotel.
Day 5: kargil – Rangdum (3800m)
Morning after breakfast proceeds towards Rangdum. After a short drive from Argil we enter in to the Suru valley. Suru valley is one of the most beautiful regions of Ladakh, and is the heartland of Kargil. You will enjoy the view of massive Nun and Kun peak and the Parkachik glacier. There are many other unnamed Glaciered peaks on the way. On arrival at Rangdum, check in at Camp.
Day 6: Rangdum – Padum(3550m)
After morning breakfast proceed to visit the Rangdum monastery. After that, proceed to zanskar. An hour drive from Rangdum is the Penzila pass(4200m) only pass to Zanskar. Around Penzila there are also many unnamed glaciered peaks and the famous Darang Durung Glacier. This area is very scenic and you will find many shepherd huts here. Upon arrival, check in hotel at Padum.
Day 7: Sight seeing of Karsha monastery, Chuchik jal Nunnery, Kalachakra temple
After morning breakfast drive 10 km to Karsha which has the largest Geluk pa monastery of Zanskar. Close to the monastery there is a nunnery to visit which eleven headed big statue of Avaloketeshvra has believed to be 800 years old. A minute's walk up from the Nunnery you will find an old Stupa built by the great Rinchen Zangpo of Tibet. Drive back to Hotel and enjoy hot meal. In the afternoon visit the kalachakra temple a temple devoted to His Holiness The Dalai Lama who has given the teaching of Kalachakra in 1988. Overnight stay at hotel.
Day 8: Sight seeing of lower part of Zanskar
After morning breakfast drive 35 km along the Zanskar River to Zangla. We will visit the old and new palace of Zangla king. We will also visit the Zangla nunnery. After wards drive back to Tongdey. Tongdey monastery is the second largest Geluk pa monastery in Zanskar. Drive back to hotel for overnight stay.
Day 9: Sight seeing of Bardan monastry, Gyalwa Rignga and Stakrimo monastery
After morning breakfast drive 20 km to visit Bardan monastery beautifully built on gigantic rock. Bardan belongs to the Drukpa sect of Tibetan Buddhism. The wall paintings at Bardan monastery are really beautiful. On way back to hotel near Padum visit Gyalwa rignga, a big rock on which the five Dayani Buddha are curved beautifully from unknown time. Hot meal at hotel. In the afternoon visit close by Stakri mo monastery also belong to the Drukpa sect and Pipiting Guru temple, which has a beautiful Statue of Padma Sambhava and the sacred Stupa. Overnigt stay at hotel.
Day 10: Sight seeing of Zungkhul and Sani
ToDay we will visit one of the most sacred monastery Zanskar. Zunghul is 35 km drive from Padum.Zongkhul was blessed by the great Indian yogi the great Naropa in around 11th century. There are two attractive meditation caves. The old one has beautiful paintings. On way back hotel visit Sani palace, famous for the sacred Kaniska Stupa,and Naropa temple. There is a sacred Lake also. You will enjoy your meal here. Ovenight stay at hotel.
Day 11: Padum – Kargil (234km)
Early morning departure to Kargil. Overnight stay at hotel.
Day 12: kargil – Leh (230km)
After morning breakfast drive to Leh on way visit rock curved Myteria statue at Mulbek. Over night at hotel.
Day 14:
Shopping Day.
Day 15:
Transfer to airport to board flight for Delhi.
TOUR ENDS