Day 1:
Drive to Kanji Enroute visit Lamayuru Monastery, one of the oldest in Ladakh. Have lunch in a restaurant. Over night stay at camp.
Day 2: Kanji – Kanji-la Base 6-7 hrs.
Walk along Kaji valley before you reach to the base of Kanji-la Pass. Camp at this side of the base of Kanji pass.
Day 3: Kanji-la base – Kanji-la (5150mtrs) Base 5-6hrs.
ToDay you will cross the first pass of your trek.
Day 4: Kanji la Base – Pigdong-la (5020mtrs) - Dipling 7-8 hrs.
After walking down stream for a couple of hours you will reach at a point where the two streams coming from Kanji-la and Pigdong-la will join each other. From there you will turn towards the left and after some time you will cross Pigdong-la before your get to Dipling.
Day 5: Dipling - Lingshet Sumdo 6-7 hrs.
Have your sandal or slipper ready at a side of your bag for toDay you will be crossing the same river again and again.
Day 6: Lingshet Sumdo to Lingshet
After walking for some time you will leave behind Oma Tokpo and go towards the left for Lingshet. Lingshet is one of the remotest villages in Ladakh. In the evening visit Lingshet Monastery and also explore village.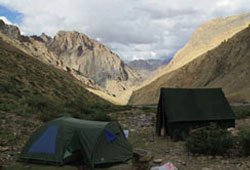 Day 7: Linghet to Yulchung
ToDay you have to cross two passes. Morgum-la (4400 mtrs) and Kupala (4100 mtrs). After that it is all going down till you reach Yulchung village.
Day 8: Yulchung to Nyerak 4 -5 Hrs.
ToDay you will cross Zanskar River to go to Nyerak. Be careful while walking on the stone bridge. Nyerak is a very beautiful village.
Day 9: Nyerak to Nyerak Dho 6-7 hrs.
ToDay is quite a tough Day as the pass is quite steep and long. After that the trial descends down to the valley till your camp.
Day 10: Nyerak Dho to Zang-la Sumdo 5-6 hrs.
The trial will go on the side of the mountain for most part of the Day. You may also have to cross waters also.
Day 11: Zangla Sumdo to Honya via Namtse-la (4100mtrs) 5hrs.
The trail will go up to get to the top of Namtse-la and from there its all going down till Honya. At Honya you will find Doksa (shepherd huts).
Day 12: Honya to Tambo Gang 5 hrs.
After two hours walk you will reach Zang-la village, the royal capital of Znagkar. Visit Zang-la Nunnery and then the Kings House. Have your pack lunch at a good place of the village. Post lunch proceed for your camp which is one hours walk from Zang-la village.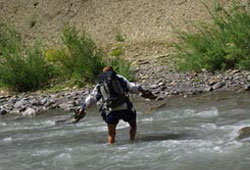 Day 13: Padum
You will pick up by jeep from Tambo. Enroute visit StongDay Monastery. Have hot lunch at Padum. Post lunch visit Karsha Monastery, the biggest monastery in Zanskar.
Day 14: Padum to Rangdum 6hrs.
Drive to Rangdum through Zanskar valley. After 3 hours drive you will cross Penzi-la (4400mtr). From there its 1 hour drive for Rangdum. Visit Rangdum Monastery. Over night stay at a fixed camp.
Day 15: Rangdum to Mulbek: 6hrs - 8hrs.
The dive will be interesting in Suru valley. There are few glaciers like the Shapat, Rungo and Parkhachik and also the majestic Nun and Kun Peaks. From Kargil it's a two hours drive to Mulbek.
Day 16: Mulbek to Leh 6hrs.
Drive back to Leh with all the beautiful memories.
Day 17:
Rest at Leh. Day free for your personal activities.
Day 18:
Fly back to Delhi to catch your flight for home.
TOUR ENDS