Day 1: Delhi – Manali
In the evening transfer to Bus station for Deluxe Volvo coach to Manali. Overnight at Hotel.
Day 2: In & around Manali - 80 Kms
Arrival Manali in the morning check into hotel. After refreshing up, ride around Manali. Get accustomed with the bikes. Make the most of this Day because there is some very tough biking ahead!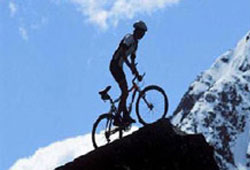 Day 3: Manali - Keylong - Appx 140 Kms
We will make an early start towards Jispa, our next night halt. the abundance of greenery and trees dramatically disappears into arid landscapes as we ascend the steep mountains over Rohtang Pass. We can expect a few muddy tracks at times. Overnight camp at Jispa
Day 4: Jispa To Sarchu - 110 Kms
After Kalong begins the real ascent over some muddy patches and water crossings where the melting snow from the higher ranges flows down on the road. We will ascend Baralacha La (pass) 4830M and then cross into the Zanskar ranges to camp at Sarchu.
Day 5: Sarchu - Rumtse - 173 Kms
We'll make another early start toDay to cross Brandy Nallah, Gata Loops and the Double humped Pass Lachulung La (5060M). Its awe inspiring scenery (if bleak at times) all the way toDay as we cross Pang (4630m) and the More Plains - a flat stretch of 48 Kms, at an average height of 4200m to reach the world's second highest motorable pass Tanglang La (5,360 M). It's down the other side to our picturesque Camp site at Rumtse (appx 30 Kms/4325m) for the night
Day 6: Rumtse - Leh Town - 78 Kms/ 3506 M
Julay! You wake up in the lap of the Ladakh Valley. Greet the locals with a Julay and feel the warm and hospitable nature of the Ladakhis envelop you. We drive along at a leisurely pace, stopping to check out two magnificent Monasteries on our way to Leh.
Day 7: At Leisure in Leh Town
ToDay is a well deserved rest Day for the man and the machine. It is essential at this altitude to acclimatize.
Day 8: Leh - Pangyong Tso - 160 Kms
ToDay we head towards Pangyong tso. Ascend the height of the world's third highest motorable pass Chang la over landslide prone area and wayward mountain streams deciding to change course at will. We will set our campsite in the general area around Pangyong Tso. One of the toughest water crossings on this route is near the Lake - real challenge for man and machine! But once you get to the lake you will forget the tough ride, the maniacal streams and the cold...To find such a huge expanse of calm blue water at that altitude! It's definitely worth the ride. The Pangyong Tso (lake of great hollowness) is almost 130 Km long and 06 to 07 Km wide, extending east to west at a height of 14000 Ft.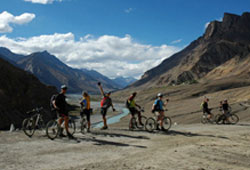 Day 9: Pangyong Tso - Leh - 160 Kms
ToDay we will head back the same way to Leh. We'll make an early start and try to reach Leh by afternoon. We need a well deserved rest and an early night. Overnight at Hotel.
Day 10: Leh - Khardung La (5602 M) - Nubra Valley - 140 Kms
ToDay is the Day we all came on this ride - to be on Top of the World - the Khardung La (5602M). The initial smooth going track becomes tougher as we ascend, full of boulders and stones - but it is certainly worth the ride. After a short break we will move on to reach the Nubra Valley. It's a fantastic ride over fairly good, paved roads most of the time.
Day 11:
Departure and transfer to Airport. End of the trips.
TOUR ENDS